**Detalles**

**Categoría: De cine**
**Publicado el

****Martes**, 08 **Marzo** 2016 21:08**

**
**Escrito por Patxi Álvarez**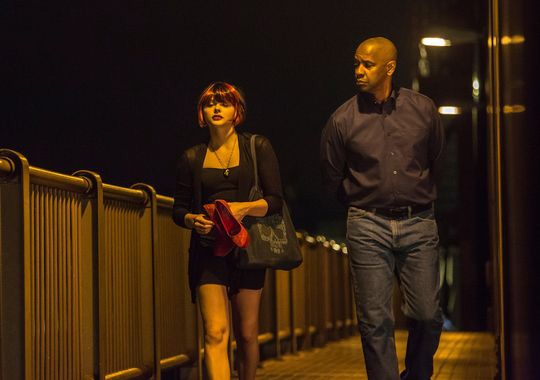 Antoine Fuqua vuelve a trabajar con Denzel Washington para traernos El protector. Han pasado 13 años desde que nos trajesen Training Day junto a Ethan Hawke, la película que le catapultó a la gloria, desde entonces solo nos ha traído producciones palomiteras cuya función se aleja cada vez más de hacer cine y se centra más en entretener por entretener. Ejemplo de ello es Shooter: El tirador, amada por el público medio, desapercibida para la crítica. Cada vez más en la línea de esas películas comerciales que tratan al espectador que la aclama como un imbécil, como alguien que no tiene ni puta idea de cine y que encima lo pone de manifiesto recomendado estas porquerías. Creo que todos recordaréis Venganza de Liam Neeson, In Time, de Justin Timberlake o Un ciudadano ejemplar, de Gerald Butler. La demagogia aplicada al cine, dar al espectador lo que de antemano sabe que va disfrutar, cine fácil, simple, pero manipulador y mentiroso a la vez. Para todos aquellos que buscan entretenerse, pero sin entrar de verdad en la película. El "reggaeton" del cine. Entretiene a la mayoría, pero, ¿para qué engañarnos? es una mierda. Esto es The Equalizer.
**Detalles**

**Categoría: De cine**
**Publicado el

****Jueves**, 03 **Marzo** 2016 10:39**

**
**Escrito por Patxi Álvarez**
Desde que vi el trailer de esta séptima entrega de la saga 'Fast and Furious' tenía claro que estábamos ante una de las películas más ridículas del 2015. A decir verdad, no me quedaba corto, puesto que eso lo pensé tras ver la escena en la que Vin Diesel y Paul Walker saltan desde lo alto de un rascacielos a otro, y luego a otro más, pero es que esa no es ni de lejos la escena más ridícula que he podido ver visionando esta película, ¡en absoluto! Las hay mucho peores, no solo en lo que tiene que ver con la física, que dicho sea de paso, si el mismísimo Isaac Newton levantase la cabeza y volviese a la vida seguramente se convertiría en un asesino en serie que perseguiría a los creadores de esta película y sus anteriores entregas por mancillar todas y cada una de las leyes de la física que nos enseño. Si hablamos de antepasados, ¿que pensarían los hermanos Lumière, considerados los padres del cine, si pudiesen ver esta película? Seguramente se llevarían las manos a la cabeza pensando en el monstruo que han creado.
**Detalles**

**Categoría: De cine**
**Publicado el

****Miércoles**, 24 **Febrero** 2016 10:10**

**
**Escrito por Patxi Álvarez**
Jaume Collet-Serra regresa de nuevo junto a Liam Neeson para ofrecer un thriller comercial y liviano (como ya hiciera en "Sin identidad"), y vuelve a demostrar su gran talento como director al distraernos por momentos con sus virguerías y su pulso narrativo de un guión tontaina; un guión que esta vez tiene más fragmentos y desperfectos que el de Butcher y Cornwell en la anterior cinta del director.
El guion nos describe a un alguacil aéreo de los Estados Unidos, que se topa con el reto de un pasajero que amenaza con matar a un pasajero cada 20 minutos. Mientras el alguacil trata de averiguar dentro del avión quien es el terrorista, cada pasajero se convierte en sospechoso o víctima. El planteamiento es interesante, pero esto no es "10 negritos". Lamentablemente la conspiración no es intrincada y no está muy trabajada; carece de intelecto, madurez, sensatez o calado. Por el contrario no dejan sucederse en ella simplezas, insensateces, memeces y disparates varios con repetitividad y muy mal resueltos... todo en un tono pretendidamente serio. Esto hace que el metraje en algunos momentos se aleje de todo interés al resultar algo redundante y somero (y esta vez Collet-Serra poco puede hacer cuando el libreto deja detalles tan sobrantes y prolijos, frases tan bobas y tipiconas (ni la cámara lenta ni los silencios entre frases ayudan ya en ciertos momentos a mantener cierta intriga) y situaciones y personajes tópicos).
**Detalles**

**Categoría: De cine**
**Publicado el

****Miércoles**, 17 **Febrero** 2016 00:31**

**
**Escrito por Patxi Álvarez**
Antes de empezar mi critica semanal me gustaría hablar unas lineas sobre lo que me paso el martes 9 de febrero,día en el que fui al Coliseo Zubiarte de Bilbao a visionar la película que les hablo.Pues cual fue mi sorpresa que al ir a sacar las entradas la dependienta de Cinesa me indica a mi y mis amigos que la entrada por arte de magia pasa a valer 8,70.......nuestras caras fue ....pero que coño es esta mierda,ya es caro el cine como para que me roben en mi puta cara!! Las ofertas del 2x1 y otras ofertas habían desaparecido por arte de magia gracias a la Productora Warner. La "simpática" dependienta se escudo en un pequeñin cartelito donde indicaba que la productora les impedía hacer cualquier oferta.....Ya podían haber dicho algo en su pagina web o en algún medio publico pero nada,mutis por el foro!!
Entramos a la sala y no había mas de 10 personas.....luego se quejan y empiezan a llorar de que no va la peña a los cines,con estas medidas van a dejar las salas vacías porque señores se están cargando el negocio!!
**Detalles**

**Categoría: De cine**
**Publicado el

****Miércoles**, 10 **Febrero** 2016 01:16**

**
**Escrito por Patxi Álvarez**
Prosigue la inexorable lapidación de la saga Terminator, que debió haberse finiquitado en la segunda parte, cuando Cameron decidió capitular. Y si no la seguía Cameron al menos que hubiese caído en manos talentosas y no en manos de gente que hace películas como los trabajadores del MacDonalds hacen hamburguesas; con prisas y sin "amor" pero como mucha carne y mucha grasa para que el inaprensible consumidor diga "¡Ohhh, qué festín me voy a pegar!" deslumbrado por el cacho carne medio quemada que sobre sale del pan rancio y con la lechuga a punto de precipitarse al suelo empapada en mayonesa caliente.
**Detalles**

**Categoría: De cine**
**Publicado el

****Martes**, 02 **Febrero** 2016 22:09**

**
**Escrito por Patxi Álvarez**
Primero decir que es una como tantas otras que ya se han hecho, no había momento que no me esperase lo que iba a suceder, predecible hasta decir basta, y no porque el guionista haya buscado ese final típico, es que ya he visto dios sabe cuantas películas que tienen los mismos malditos clichés. Cada vez que vea una así, buscaré a ver en los créditos si el guionista es el mismo, porque no puede haber tantas casualidades metidas con palanca.
**Detalles**

**Categoría: De cine**
**Publicado el

****Miércoles**, 27 **Enero** 2016 20:11**

**
**Escrito por Patxi Álvarez**
Ya lo decía Tarantino en "Malditos bastardos". El cine es un arma poderosa capaz de cambiar el curso de la historia. A "The Interview" le ha venido a ocurrir algo parecido. Su mera existencia supone ya un acto declarado de guerra, una película que busca y consigue provocar tan sólo con su simple argumento de dos periodistas embarcados en una misión para acabar con la vida del dictador de Corea del Norte. Ha apretado las tuercas necesarias para hacerse notar. Sony, metida o no en el asunto desde el principio, ha logrado vender de manera masiva un producto destinado al consumo fácil y convertirlo en imprescindible. En otras palabras, como dirían sus protagonistas, nos ha engatusado.
**Detalles**

**Categoría: De cine**
**Publicado el

****Martes**, 19 **Enero** 2016 22:53**

**
**Escrito por Patxi Álvarez**
Nostalgia, plenitud visual, ambientación absorbente, recuperación del espíritu; sensaciones que resuenan en mi mente al término de uno de los mayores acontecimientos cinéfilos de la década –comercialmente hablando–. Le guste a los gafapastas o no. Le guste o no a todos aquellos a los que la fuerza jamás les ha acompañado ni para ir a la vuelta de la esquina. Les guste o no a aquellos que no se les eriza el vello cuando escuchan los acordes de la mejor banda sonora que jamás se ha escrito para una película y que no sienten su cuerpo trasformar en un instrumento más dentro de esa epopéyica orquesta, resonando vacíos esperando ser llenados de sentimiento Jedi. Lo siento sinceramente por ellos.
**Detalles**

**Categoría: De cine**
**Publicado el

****Miércoles**, 13 **Enero** 2016 22:22**

**
**Escrito por Patxi Álvarez**
Nº 1. 'El Exorcista', de William Friedkin (1973). ¿Cómo se consiguió entonces que el sonido de un enjambre de abejas y los tecleos intimistas de Mike Oldfield sigan poniéndonos los pelos de punta? Todavía hoy resulta inexplicable que esta película siga causando tanto fervor como terror entre las masas. Nunca hasta entonces se había abordado una posesión demoníaca con tal detalle de elementos grotescos, ferocidad y realismo. Su estreno, pese a ser la adaptación de un best-seller del año anterior, se convirtió en un acontecimiento de desmayos, abortos e histerias en las salas, una vez puesta en imágenes la historia del triste padre Damien Karras (Jason Miller), y su encuentro con Reagan (icónica Linda Blair), una dulce niña que comienza a ser presa de una posesión infernal, ante la impotencia de su madre (maravillosa Ellen Burstyn). Sus frases, sus planos, sus fotogramas encriptados, y la mirada del sacerdote hacia una ventana iluminada, ocupan el primer puesto de este recorrido, ya que solo recordarlos nos hacen temblar en este día tenebroso.
**Detalles**

**Categoría: De cine**
**Publicado el

****Miércoles**, 06 **Enero** 2016 15:40**

**
**Escrito por Patxi Álvarez**
No, Fredrick Zolla no protagoniza está película. En su lugar tenemos a Bradley Cooper y a Cint Eastwood tras las cámaras en una peli que también habría complacido mucho a Goebbels.
Clint Eastwood se hizo famoso como actor por hacer papeles de tipo duro. Sin embargo, en su carrera como director, no tardó en labrarse otro tipo de imagen. Desde Primavera en otoño (1973), y cada vez más con el paso de los años, ha dedicado algunas películas a defender, y de forma brillante, valores como la igualdad, el perdón, el amor, la empatía o el pacifismo. Esta aparente contradicción anda en la línea de su filiación política, y es que aunque es archiconocido su apoyo al Partido Republicano (decreciente con el paso de los años pero permanente hoy en día), también defiende el control de las armas, el matrimonio homosexual o el derecho al aborto, y ha critica guerras como la de Corea o Irak. Sin embargo, el director que nos aleccionó elegante y humildemente con Cartas desde Iwo Jima (2006) o Gran Torino (2008), se ha olvidado por completo de la empatía y el pacifismo para dirigir un homenaje a Chris Kyle, soldado estadounidense que asesinó a un mínimo de 160 personas en la guera de Irak y que se ganó recibió el apodo de "Leyenda".
**Detalles**

**Categoría: De cine**
**Publicado el

****Martes**, 29 **Diciembre** 2015 17:56**

**
**Escrito por Patxi Álvarez**
El mito vampírico sigue huerfano desde que Coppola y Neal Jordan nos entregaran sus más que prodigiosas versiones del conde. Desgraciadamente, tras ellos, lo único que hemos vivido son chupasangres que hasta el propio Conde Chocula se partiría de risa, de no ser porque al pobre hombre ya no le quedan colmillos con los que morder tanta mediocridad: entre los vampiros crepusculianos, (Crepúsculo) los vampiros indies, (Sólo los Amantes Sobreviven) y los remakes sin miedo, (Fright Night I y II) nuestro chupasangres favorito ha pasado a mejor vida después de tanta prostitución.