**Detalles**

**Categoría: De cine**
**Publicado el

****Miércoles**, 07 **Octubre** 2015 19:26**

**
**Escrito por Patxi Álvarez**
Estamos jodidos. La televisión escupe basura mientras nosotros escondemos nuestras miserias debajo de la cama. Pero llega el día en que hemos acumulado tanta miseria que se escapa de su escondite y entonces, de repente, nos convertimos en esa basura que los medios de masas nos inyectan en el cerebro. Sí, estamos jodidos. Si en The Game y El club de la lucha, David Fincher buceaba en la incertidumbre y la soledad en la que se hallaba el hombre ante el cambio de milenio, y en La red social retrataba las relaciones humanas tras dicho cambio, en Perdida vuelve a firmar una precisa radiografía del tiempo que nos ha tocado vivir. Una radiografía que nos muestra que el cáncer somos nosotros. Vuelve, con esta adaptación de la novela homónima de Gillian Flynn (que escribe el guion) el Fincher más insano, crudo y retorcido. También el más cínico. Y a la vez el más indeleble. Como ya hiciera en La red social, juega a disolverse en la historia. Se puede ser un autor de primera sin estarlo gritando en cada plano. Fincher, antes que autor, se ha convertido en algo más valioso, en un comunicador excepcional. Un gran cronista de las perturbaciones cerebrales en tiempos complejos. Algo así como la versión americana y para el gran público de Michael Haneke.
**Detalles**

**Categoría: De cine**
**Publicado el

****Martes**, 29 **Septiembre** 2015 09:38**

**
**Escrito por Patxi Álvarez**
Es admirable la inquietud que los hermanos Spierig se presentan hacia el séptimo arte. De los zombis de "Undead" a los vampiros de "Daybreakers", y ahora a la ciencia-ficción de "Predestination". No se casan con ningún género en particular, son como niños que juegan y experimentan con las bases sobre las que se fundamentan cada uno de ellos. No innovan ni reinventan, pero sí manejan con soltura los resortes fundamentales que activan cada tipo de propuesta de la que se hacen cargo.
**Detalles**

**Categoría: De cine**
**Publicado el

****Miércoles**, 23 **Septiembre** 2015 11:15**

**
**Escrito por Patxi Álvarez**
En la década de los noventa el cine negro sufrió un gran cambio, una transformación que lo alejó de la ingenuidad y lo sumió en una oscuridad mucho más asfixiante de la que estábamos acostumbrados, no sólo en la trama, sino también en los personajes. Los malos fueron totalmente deshumanizados, creando monstruos de la peor calaña con los que el diálogo no era una opción viable como recurso para entrar en su hermética mente, e intentar descifrar su retorcida personalidad. Lejos quedó la empatía que nos despertaba Orson Welles en El tercer hombre, 1949, cuando subido a la noria del parque de atracciones de Viena analizaba la hipocresía con la que se justifica el bien y el mal, o el famoso monólogo sobre la moralidad con el que Peter Lorre intentaba defenderse de un jurado popular que hacía tiempo había fallado en su contra en, M, el vampiro de Dusseldorf, 1931 "¡Y vosotros os atrevéis a juzgarme!". Los buenos, por su parte, también han sufrido una evolución digna de todos aquellos que dejaron de salirse con la suya hace mucho tiempo. Las atrocidades a las que se enfrentan a diario les han hecho adoptar una personalidad mucho menos sociable, convirtiéndolos en lobos solitarios que viven esclavos de su trabajo ocultos tras la fría mirada de quien han contemplado el terror a los ojos y ha vivido para contarlo.
**Detalles**

**Categoría: De cine**
**Publicado el

****Miércoles**, 16 **Septiembre** 2015 10:53**

**
**Escrito por Patxi Álvarez**
Curiosa obra, que sin alejarse del todo de los clichés estilísticos dentro del cine independiente estadounidense mayoritario en los últimos años, mezcla con gran acierto el Western apocalíptico, con el thriller y el drama familiar; pero por encima de todo, lo que aquí se cuenta es una historia de supervivencia. Algo que no aparenta ser nada fácil en un futuro altamente hostil (aunque, desgraciadamente verosímil en un futuro no tan lejano) en el que el agua es un bien escaso, por el cual la gente es capaz de matar o morir en un lugar donde imploran las leyes del viejo oeste norteamericano. La historia gira en torno a los miembros de una familia, centrándose en los tres varones de la misma en cada uno de los tres capítulos en los que se divide la trama: El padre, el novio de la hija, y el hermano de ésta. Lo cual podría ser interpretado como una mirada algo machista, ya que la única mujer de la familia, aunque sea el nexo entre los tres varones, queda relevada a un puesto muy secundario respecto a éstos.
**Detalles**

**Categoría: De cine**
**Publicado el

****Martes**, 11 **Agosto** 2015 11:14**

**
**Escrito por Patxi Álvarez**
Increíblemente, esta historieta nace en la cabeza de un adulto. No, peor, de dos. Porque es la adaptación de una novela, que por libre que haya sido, el librito también debe de tener lo suyo. El resultado es un derroche de estupideces sin límite, contadas con la más burda e indecorosa de las cursilerías. Una cosa muy ridícula.
**Detalles**

**Categoría: De cine**
**Publicado el

****Miércoles**, 05 **Agosto** 2015 10:20**

**
**Escrito por Redacción**
Esta es para mi la culpable del asesinato. Esta película es la que ha matado definitivamente la saga Terminator. No fue la tres, ni siquiera la cuatro; esta es la que lo manda todo a la mierda, y encima tiene la poca vergüenza de meter las narices en el resto de películas para modificar toda la historia.
Ya sabemos que la primera es un clásico básico, la segunda es incluso mejor que la primera, la tercera no estaba mal (y sé que aquí discrepo con bastante gente), la cuarta ya empezaba a adentrarse en el terreno de lo mediocre; pero todas ellas seguían una secuencia coherente en la que unas películas no molestaban demasiado a las otras. Esta no es solamente un bodrio, sino que intenta salpicar su mierda a todas las demás, hasta el punto que la única forma de salvarlas es ignorar la existencia de este despropósito.
**Detalles**

**Categoría: De cine**
**Publicado el

****Martes**, 28 **Julio** 2015 11:37**

**
**Escrito por Patxi Álvarez**
Me tenéis que perdonar pero esta semana voy a cambiar el guion y en vez de una película quiero hacer mi Critica sobre esta serie Americana!!
«Los príncipes que han hecho grandes cosas son los que menos han mantenido su palabra» y «Los hombres obran el mal, a menos que la necesidad los obligue a obrar bien» son algunas de las frases que escribió Maquiavelo en su famoso tratado de doctrina política El príncipe allá por 1513. Exactamente quinientos años después, estas parecen ser también las máximas que guían el comportamiento de los personajes de House of Cards, radiografía de las intrigas políticas que hacen de Washington DC un auténtico nido de víboras.
**Detalles**

**Categoría: De cine**
**Publicado el

****Miércoles**, 22 **Julio** 2015 10:48**

**
**Escrito por Patxi Álvarez**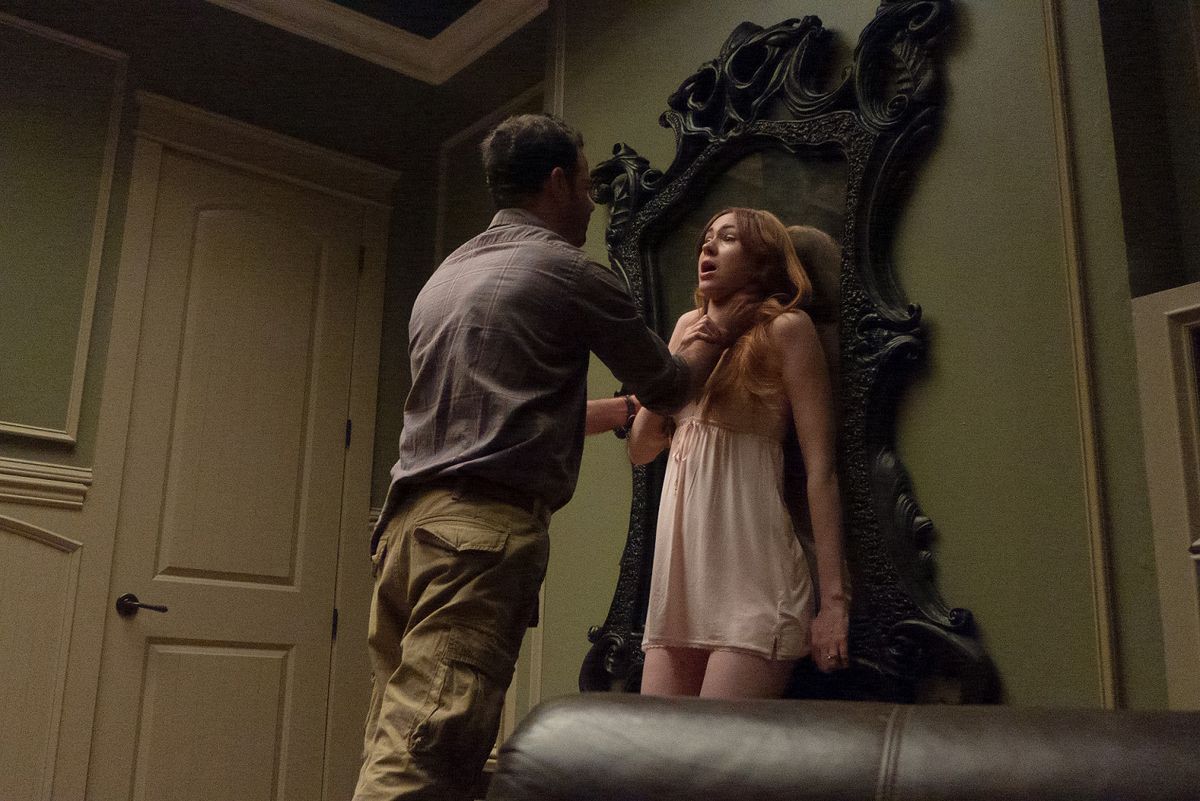 Rara vez en los últimos diez años tengo la sensación de ver algo novedoso en el cine de terror más comercial dedicado a las "haunted house" (casas malditas). Antes me había pasado con Insidious o con The Conjuring, casualmente, todas del mismo director, James Wan. Por eso no afrontaba Oculus con muy buenas expectativas, ya que aunque sus comentarios fueran buenos, siempre provienen de las mismas fuentes "agradecidas" de ciertas distribuidoras que saben hacer bien los deberes a la hora de presentar una película.
**Detalles**

**Categoría: De cine**
**Publicado el

****Martes**, 14 **Julio** 2015 12:00**

**
**Escrito por Patxi Álvarez**
Ilusos de nosotros, pensábamos que ya lo habíamos visto casi todo en el tsunami de cine postapocalíptico que nos lleva engullendo con fuerza durante los últimos años. Un Armagedón cinematográfico de rostro polimorfo representado por hordas de zombies, invasiones extraterrestres, cometas extraviados, guerras, desastres naturales, pandemias de origen desconocido o una de las problemáticas más presentes en el debate ecológico actual, el temido cambio climático. Esa es precisamente la fuente de la que brota la historia de Snowpiercer, adaptación de una novela gráfica francesa escrita por Jean-Marc Rochette y Jacques Loeb (Le Trasperceneige) y reeditada en España como Rompenieves.
**Detalles**

**Categoría: De cine**
**Publicado el

****Viernes**, 10 **Julio** 2015 13:14**

**
**Escrito por Patxi Álvarez**
Antes de ponerme a hablar de Guardianes de la galaxia tengo que reconocer que las películas de Marvel cada vez me aburren más cosa que no ocurrió en este caso para mi sorpresa!! Esto se debe a que nos encontramos en un momento en el que hay una saturación tremenda de cine de superhéroes y al final parece que todas las películas son iguales, que en Disney tienen una máquina expendedora de guiones al lado de la de café.
**Detalles**

**Categoría: De cine**
**Publicado el

****Martes**, 30 **Junio** 2015 17:15**

**
**Escrito por Patxi Álvarez**
Cuando te pones a ver una película de Jason Statham sabes a lo que vas. Y si el guión encima es de Stallone ¿qué esperan los críticos? ¿Hamlet? Vamos no me jodas!!!
El guión es de Stallone que también participa en la producción por tanto, ya de entrada, sabes que el recorrido va a ser sencillo, lineal y básico, con diálogos de sentencias cortas y claras, sin complicaciones lingüísticas que mareen mucho al espectador y con una resolución accesible para cualquiera, es decir, que es muy fácil verlas venir.